English Porcelain Bulldog Pepper, Circa 1870, Hand Painted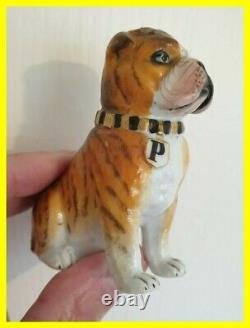 A 19TH CENTURY ENGLISH PORCELAIN DOG PEPPER MODELED AS A BULLDOG. THIS IS HAND PAINTED AND IN VERY GOOD CONDITION. PAINTED WITH GILT AND NATURALISTIC COLOURS TO ALMOST BRING THE DOG ALIVE. MISSING IT'S CORK FROM THE BOTTOM BUT THIS IS EASILY REPLACED.
PLEASE SEE THE MANY PICTURES BELOW.