Haviland Limoges France Hand Painted Penitent Mary Magdalene Plate after Meissen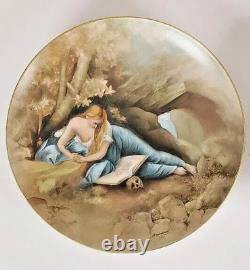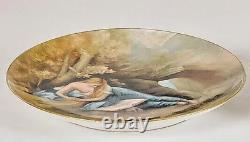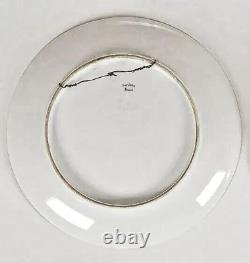 This antique porcelain piece faithfully reproduces Batoni's interpretation of the legends surrounding the post-biblical life of Mary Magdalene, who renounced the pleasures of the flesh for a life of penance and contemplation after the Crucifixion. Many preeminent porcelain manufacturers also produced similar versions of Batoni's masterpiece, including Meissen, KPM, and Richard Klemm (Dresden). The hand-painted image depicts a recumbent Mary Magdalene studying a book resting on a skull within a grotto surrounded by a lush forest glen. The master artist's expert use of vivid colors and light in this polychrome charger sets it apart from other 19th Century examples. The sunshine emanating from above the grotto is a distinguishing characteristic, along with a more serene expression on Mary Magdalene's face. This impressive plate is also replete with religious symbolism and a rich history. Here, the book that Mary Magdalene reads from is presumably the scriptures and symbolizes her devotion to Christ's teachings. Further, the skull is an emblem of mortality. The proximal relationship of the scriptures being supporting by the skull suggests that Mary Magdalene has devoted her life to spiritual enlightenment. The sacrament of Penance had important significance in Counter-Reformation spirituality, and artists frequently portrayed penitent saints as exemplars of religious fervor. Such works were meant to inspire a greater devotion at a time when Catholicism was being challenged by Protestant reform. On the other hand, the popularity of Mary Magdalene as a subject is also associated with her implied sexuality. Her passive gaze and partially naked body appealed to male viewers, for whom such artistic works offered a moralizing context through which to engage with the sensuality of the female form. In Batoni's work, Mary Magdalene's partly exposed breasts and long, flowing blonde hair, would have held erotic connotations for viewers. This one-of-a-kind, striking charger measures approximately 12 inches in diameter. EXCELLENT, preowned condition with no chips, cracks, or repairs.
The paint remains virtually unscathed by the passage of time. Haviland & Cie is celebrated for its fine porcelain, unparalleled craftmanship, and masterful decorations. This piece is a pristine testament to the exceptional decorative articles that Haviland produced at the end of the 19th Century.
Please reach out with any questions, or reasonable offers. Please allow a few additional days for your items to be professionally packed.