Pair Royal Vienna Style Porcelain Lidded Vases Victoria Carlsbad Austria ca 1900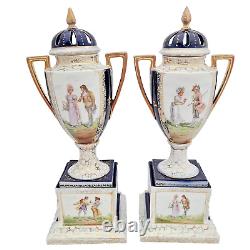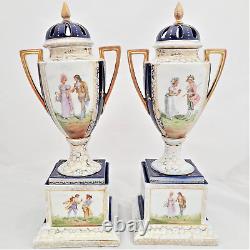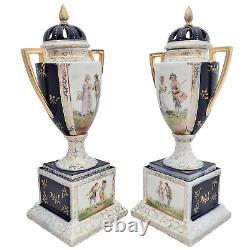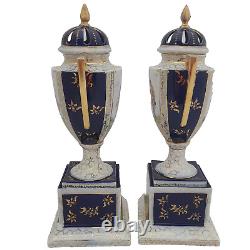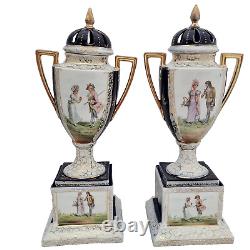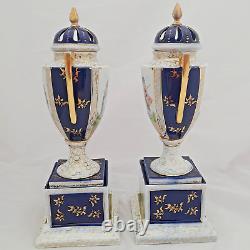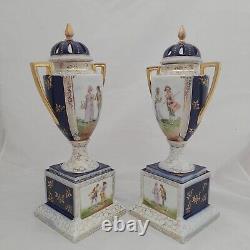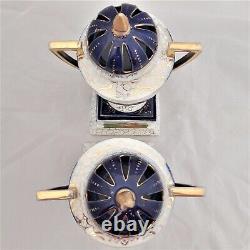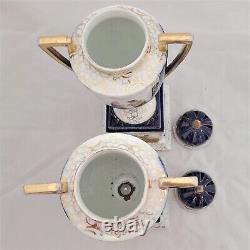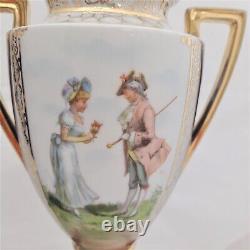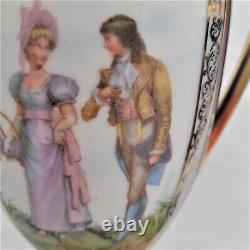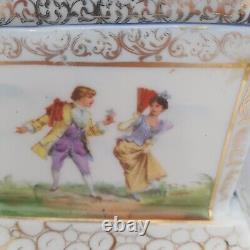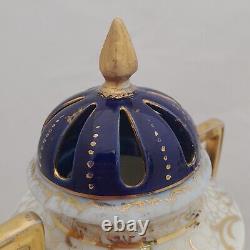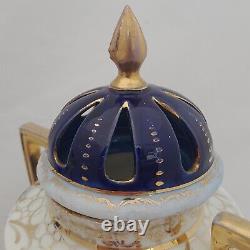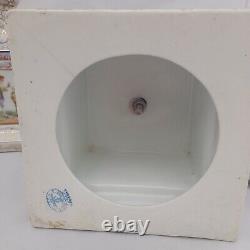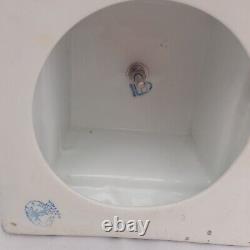 A very decorative pair of late Victorian - Edwardian large antique lidded twin handled porcelain vases on plinths or socles. They have been made in the Royal Vienna Porcelain style, decorated with Georgian ladies and Gentleman, possibly courting couples, all wearing Georgian 18th century style dress.
There are cobalt blue underglaze panels and copious gilding. The gilding on the cobalt blue ground has an number of floral sprays. There are sections of gilding on the plinth and foot painted in small circles of varying size in a loose simulation of marble or stone. The vases each stand on a stepped square shaped plinth or socle.
Set onto the plinth is a separate square shaped foot with round tapering stem. The vase bodies are of an ovoid shape with a flat shoulder that has two "number seven" shaped handles and there is a round short everted neck. The lids are of a domed form with eight long tear shaped pierced slots, all surmounted with a spire finial. The pierced lid probably indicates that these vases were intended for pot-pourri. The three lower parts are fastened together with a long bolt and nuts.
The base of one vase has the Royal Vienna Porcelain factory mark of the Bindenschild or beehive mark with Austria below printed in underglaze blue. The Royal Vienna factory closed its doors in 1864 and this vase we believe dates to around 1900. The bases of the vases have both been transfer printed with the Victoria China Carlsbad Austria.
This mark is of the Viktoria AG porcelain factory of formerly Schmidt & Co, of Altrohlau, Bohemia, now known as Stara Role in the Czech Republic. The Angel mark was registered as number 164 on 20th August 1891 with the Chamber of Commerce in Eger by Schmidt & Co. Each measures 16 inches (41 cm) high, 6 3/4 inches (17 cm) wide and 5 3/4 inches (14 cm) deep. They weigh a total of 2.872 kg unpacked.
In very good antique condition some wear to the gilding One vase has a short crack to the underside of the base. One has a slight lean to one side and the finial has been restored on one lid.
Both have new replacement bolts and nuts to fasten the three parts together. A very ornate and highly decorative antique pair of vases or collectors of classically decorated porcelain, Royal Vienna style vases or Continental porcelain.
The Directory of European Porcelain - Ludwig Danckert.